SHOTCRETING
With over 20yrs experience, we provide all your Civil, Residential & Commercial Shotcreting Services at the best rates. Get your FREE QUOTE today!
QUEENSLAND'S NO.1 SHOTCRETING COMPANY
Queensland Shotcrete Services can help you save time and cash with our world class shotcrete services.
How?
Shotcrete has faster application, higher versatility and is overwhelmingly more efficient with lower wastage.
A high-pressure nozzle combined with the most up to date, cutting edge technology allows us to access hard to reach and complex locations.
The shotcreting application can be either vertical or horizontal, either way we only need a 50mm by 50mm area to get the nozzle in. This makes shotcreting the most flexible, practical and effective method available.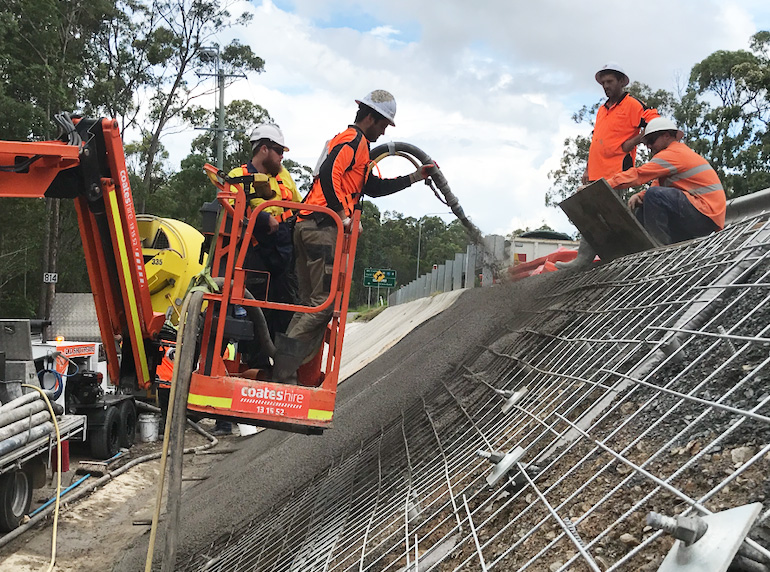 What is the Shotcrete Process?
The Shotcrete Process involves projecting a wet concrete mix onto a surface via a high pressure pneumatic hose.
The advantages of the shotcrete process are many, not the least of which is the ability to access difficult and tight locations that you can't get to using traditional methods.
The shotcrete process is also faster, doesn't require the formwork of traditional concreting, is more cost-efficient, more durable and allows you to be more creative in terms of the shapes of areas to be concreted and the finishes used.
Our shotcreting services can be used on residential, commercial and civil projects with applications that include:
retaining walls and artificial rock walls

swimming pools, ponds and dam walls

tunnelling
strip drains

understructure stabilisations

erosion control (both shotcrete and concrete matting)
basements and underground

soil stabilization

v drains and pits

concrete repairs
Now, just because it's concrete doesn't mean it has to be boring or unattractive. We have a range of finishing styles, including:
gun finish

wood float

sponge

trowel

broom

stamp

simulated rock
Our suppliers are the absolute best in brand including: Hymix, Nucon, Hanson and Holcim, and we offer plain or decorative concrete options.
One of the ways Queensland Shotcrete Services is able to make sure your project is finished on time and on budget is by having our own team of excavation experts and having a fleet of earth moving equipment.
We also take seriously our role as good corporate citizens by complying with the strictest health and safety standards and following the detailed waste management requirements of Australian Govt legislation.
QLD Shotcrete Services
Brisbane, Gold Coast, Queensland & Australia Wide
While we are based on the Gold Coast, we look after clients Australia wide and can certainly look after your next project. Qld Shotcreting Services have been Shotcreting Brisbane areas, Gold Coast areas and Shotcreting Queensland for over a decade and can complete any Shotcrete works that you may require.
We offer extensive Shotcrete Services, from Shotcrete walls to a simulated rock finish, all our Shotcrete services are carried out by a team of professionals with years of hands on experience in the field.
Qld Shotcrete Services is your one stop shop for all your Shotcreting services from the start of the project with Ground Engineering to the Earthworks, to the Soil Stabilisation stage then the Shotcreting to finish of the project.
If you are after fast, high quality, competitively priced shotcreting provided by a team of highly qualified, widely respected experts contact us today. 
SHOTCRETING ENQUIRY
To request a quote for your upcoming  project, don't hesitate to contact us to request further information or to arrange a quote.
THE QLD SHOTCRETING SERVICE TEAM IN ACTION: